2023.08.29
PalVerse My Hero Academia vol.1" Apology and Notice of Paint Defect
Thank you very much for your continued patronage of our products.
We would like to apologize for the painting defect found on the "Katsumi Bakugou" included in our product "PalVerse My Hero Academia vol.1", which will be released on August 25, 2023 (Friday).
We deeply apologize for any inconvenience this may cause to customers who have purchased our products.
We hereby report the details of the defect and inform you of our future response.

<Subjects
PalVerse My Hero Academia vol. 1
August 25, 2023 Release
JAN code: 4571598659155
Manufacturer's suggested retail price: 1,100 yen (including tax)

<Defective contents
The neck of "Katsumi Bakugou" is painted black, although the correct specification is to paint the skin visible.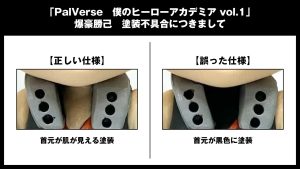 For customers who have products with defective paint
We will replace the product with a corrected product. Please contact our customer support below for further information.
Corrected products will be shipped on or after Friday, September 1, 2023.

<Contact Information
Bushiroad Creative Inc.
support@bushiroad-creative.com
Business hours: 10:00-18:00, except Saturdays, Sundays, national holidays, and year-end and New Year holidays

If you have any other questions, please contact the above customer support.
We will make every effort to prevent recurrence in the future.
We thank you for your understanding and cooperation.
© Kohei Horikoshi/Shueisha, My Hero Academia Project